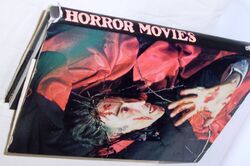 The Movie Treasury: Horror Movies - Tales of Terror in the Cinema is horror movie guide book by Alan G. Frank. The cover features a photo of Christopher Lee from the The Satanic Rites of Dracula.
From the earliest days of film-making horror movies have exerted a fascinating hold on cinema audiences the world over. Terror has stalked the screen in a multitude of horrifying forms, from insatiable vampires like Count Dracula and the many and grotesque creations of Baron Frankenstein to murderous madmen, gruesome monsters and freaks of nature.
In this book you will meet them in all their horror, and the great stars, Lon Chaney, Boris Karloff, Bela Lugosi, Vincent Price, Peter Cushing, Christopher Lee and a host of others who have given such memorable performances.
Superbly illustrated throughout in color and black and white.
External links
Edit
Ad blocker interference detected!
Wikia is a free-to-use site that makes money from advertising. We have a modified experience for viewers using ad blockers

Wikia is not accessible if you've made further modifications. Remove the custom ad blocker rule(s) and the page will load as expected.