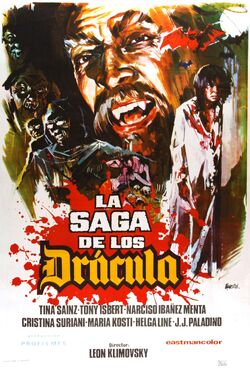 La saga de los Drácula (The Dracula Saga) is a 1973 Dracula film about his offspring. Narciso Ibáñez Menta plays Count Dracula.
Synopsis
Edit
Tina Sáinz ... Berta
Tony Isbert ... Hans
Helga Liné ... Munia
María Kosty ... Xenia
J.J. Paladino ... Gabor
Heinrich Starhemberg ... Dr. Karl
Mimí Muñoz ... Sra. Petrescu
Betsabé Ruiz ... Stilla
Ad blocker interference detected!
Wikia is a free-to-use site that makes money from advertising. We have a modified experience for viewers using ad blockers

Wikia is not accessible if you've made further modifications. Remove the custom ad blocker rule(s) and the page will load as expected.