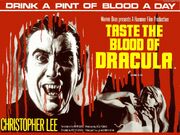 Taste the Blood of Dracula
was a film made in 1970. It was the sequel to
Dracula Has Risen from the Grave
and was followed by
Scars of Dracula
.
Christopher Lee as Count Dracula
Geoffrey Keen as William Hargood
Gwen Watford as Martha Hargood
Linda Hayden as Alice Hargood
Peter Sallis as Samuel Paxton
Anthony Corlan as Paul Paxton
Isla Blair as Lucy Paxton
John Carson as Jonathan Secker
Martin Jarvis as Jeremy Secker
Ralph Bates as Lord Courtly
Roy Kinnear as Weller
Michael Ripper as Inspector Cobb
Russell Hunter as Felix
Shirley Jaffe as Betty
Keith Marsh as Father
Madeline Smith as Dolly
Reginald Barratt as Vicar
Ad blocker interference detected!
Wikia is a free-to-use site that makes money from advertising. We have a modified experience for viewers using ad blockers

Wikia is not accessible if you've made further modifications. Remove the custom ad blocker rule(s) and the page will load as expected.