Season One
Talk

0
189pages on
this wiki
Season One

Aired
October 25, 2013 - January 24, 2014
Season One
Edit
The season kicks off with two unknown men climbing down into the tomb of Vlad III in Romania, and after a quick examination of the ornate coffin, one of the two men breaks it open using a hammer and examines the aged and apparently decaying body of Dracula while the other picks up blocks of gold off the floor and begins to examine it. 
The man who breaks open the coffin states how thirsty he must be, referring to the several hundred years that Vlad had been confined and impaled inside of the coffin. While the other man is still entranced by the bars of gold that he found, he moves around the coffin and draws a dagger from his belt, stabbing the man twice and draining his blood onto the coffin and then he hits a button that releases the mechanism which was used to keep Vlad impaled.
Episode List
Edit
Image
Title
Writer(s)
Director(s)
Airdate
#
The Blood Is the Life
Writer:

Cole Haddon

Director:

Steve Shill

10/25/13
#

01

New to England, Alexander Grayson hosts a lavish party. He becomes fixated on Mina, a beautiful young woman who looks like his dead former love. Newly engaged to Mina, Harker grapples with worries over providing Mina the life she deserves.
A Whiff of Sulfur
Writer:

Cole Haddon and Daniel Knauf

Director:

Steve Shill

11/01/13
#

02

Grayson takes Lady Jayne as a lover even as he investigates her lethal connections to The Order of the Dragon. Grayson helps Mina face a critical challenge at medical school. Van Helsing continues his quest to develop a solar vaccine to enable Grayson to conquer sunlight. Jonathan Harker strikes a devil's bargain with Grayson which has unexpected consequences.
Goblin Merchant Men
Writer:

Cole Haddon and Haley Peyton

Director:

Andy Goddard

11/08/13
#

03

Grayson seeks to determine whether Lady Jayne is a vampire hunter for the Order of the Dragon. Lucy mends Mina's broken heart with absinthe, romance and a whirlwind tour of Bohemian London. Grayson's machinations claim the life of Lord Laurent and earn him a powerful new enemy.
From Darkness to Light
Writer:

Cole Haddon and Tom Grieves

Director:

Andy Goddard

11/15/13
#

04

Grayson ruthlessly sets out to compromise Lady Jayne, by winning her heart. Lucy's enthusiastic plans for Mina and Harker's engagement party conceals a broken heart. Grayson's unexpected reunion with a very old friend proves a growing complication to his and Van Helsing's mission of vengeance. Van Helsing achieves a breakthrough in his efforts to enable Grayson to conquer sunlight, only to suffer an unanticipated setback.
The Devil's Waltz
Writer:

Cole Haddon & Nicole Taylor

Director:

Nick Murphy

11/29/13
#

05

Mina Murray and Jonathan Harker's engagement ceremony takes place. Something pushes Mina to have second thoughts. Van Helsing continues his studies to make Alexander walk in daylight. Jane Wetherby is becoming suspicious about Mr. Grayson.
Of Monsters and Men
Writer:

Cole Haddon and Katie Lovejoy

Director:

Nick Murphy

12/06/13
#

06

Browning decides to host a board meeting in the sunlight in an effort to expose Grayson. Grayson and Van Helsing acquire a vital component for the wireless electricity technology and his sunlight drug. Mina and Harker have sex.
Servant to Two Masters
Writer:

Cole Haddon and Rebecca Kirsch

Director:

Brian Kelly

01/03/14
#

07

Intoxicated by his newfound invulnerability to the daylight, Grayson dares to deny his curse and regain his humanity. Renfield is dispatched to Budapest to acquire a mysterious and long sought after relic on his employer's behalf. Harker discovers Grayson manipulated him into slandering General Shaw and strategizes on how to seek his revenge, eventually aiding The Order of The Dragon in compromising Grayson's demonstration of his technology.
Come to Die
Writer:

Cole Haddon

Director:

Brian Kelly

01/10/14
#

08

Grayson and Van Helsing have a falling out following the cancellation of their public demonstration. This leads Van Helsing to quickly seek revenge against Mr. Browning and his family. Harker discovers that Grayson has been playing him for a fool and forbids Mina from seeing him. With this new information, Mina focuses her attention on her schooling only to be attacked by Lord Davenport's men. Once Harker realizes it's Davenport who orchestrated the attack, he responds with murder. Meanwhile, Lady Jane learns that the legendary Dracula is back in London.
Four Roses
Writer:

Cole Haddon

Director:

Tim Fywell

01/17/14
#

09

Grayson goes to war with the Order of the Dragon just as Harker becomes a member of the group. Lucy reveals a secret that damages her friendship with Mina, as she recovers from her attack. Mr. Browning desperately searches for his children. Lady Jayne prepares to hunt the ultimate vampire, Dracula. Grayson turns Lucy into the monster he believes she is.
Let There Be Light
Writer:

Cole Haddon

Director:

Tim Fywell

01/24/14
#

10

Though initiating his war with the Order of the Dragon, Grayson swears to re-setup the wireless light demonstration so he can bankrupt the oil connected members. Lady Jane organizes the incoming Huntsmen for the eradication of all of the vampires in London. Now a member, unquestioning Harker assists a plan to derail the wireless light demo for a second time, not realizing the danger he's bringing about. Van Helsing prepares to cut all ties to Dracula while he follows his own plan to get his revenge on Browning for killing his family. Mina comes to some new revelations about her life.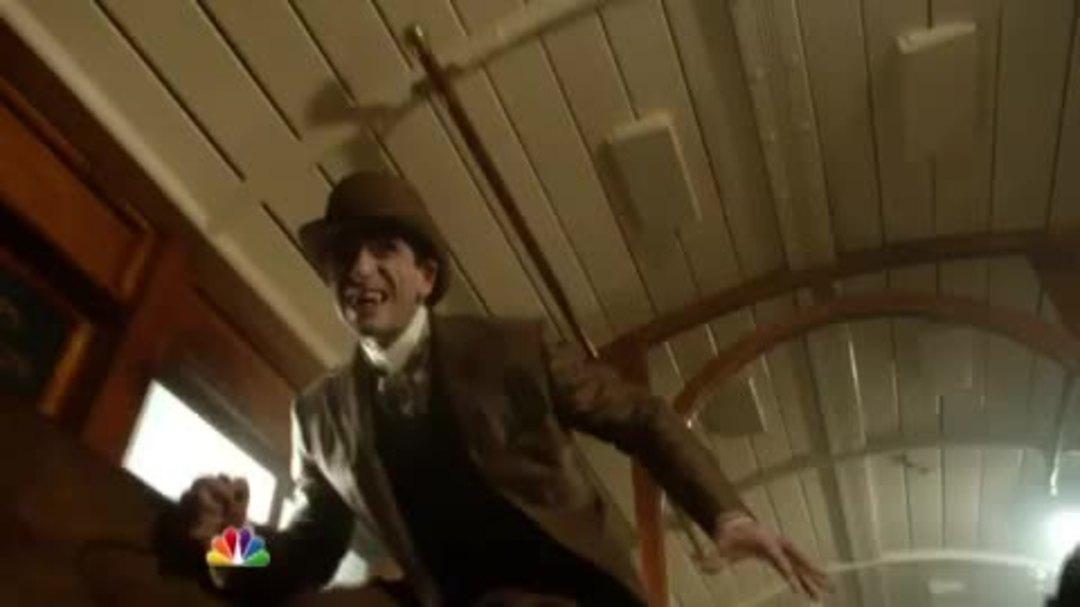 References
Edit