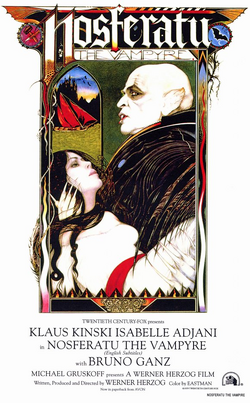 Nosferatu: Phantom der Nacht, released in the US as Nosferatu the Vampyre, is the 1979 remake of Nosferatu that combines the character of Orlok with Dracula, of whom he was originally based.
Dan van Husen as Warden
Jan Groth as Harbormaster
Carsten Bodinus as Schrader
Martje Grohmann as Mina
Rijk de Gooyer as Town official
Clemens Scheitz as Clerk
John Leddy as Coachman
Tim Beekman as Coffin bearer
Lo van Hensbergen
Margiet van Hartingsveld
References
Edit
External links
Edit
Ad blocker interference detected!
Wikia is a free-to-use site that makes money from advertising. We have a modified experience for viewers using ad blockers

Wikia is not accessible if you've made further modifications. Remove the custom ad blocker rule(s) and the page will load as expected.