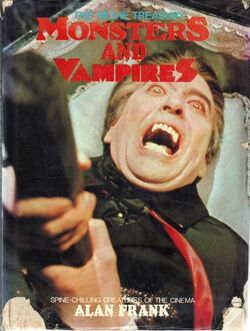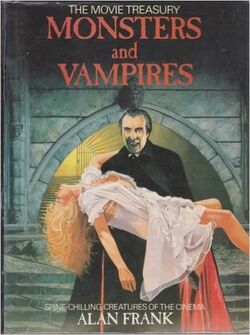 Monsters and Vampires is a guide book to vampires and other monsters of the movies. A photo of Christopher Lee from Dracula Has Risen from the Grave is used on the cover.
Since before the turn of the last century, horrific creatures of imagination have stomped, slithered, smashed and savaged their terrible way through the movie theatre, leaving a trail of happy - if briefly terrified - victims slumped in their seats. In this book that most evil yet sexually attractive of screen monsters, the vampire, is giving a new transfusion. Early vampire films are discussed, illustrated with rare stills from archives, and the careers of the two greatest screen vampires - Bela Lugosi and Christopher Lee - are treated in depth. Then come some real monstrous delights both man-made (The Fly, Frankenstein's Creature...) and men-transformed into monsters (Dr. Jekyll and Mr. Hyde, The Mummy...) and the immortals (The Hunchback of Notre Dame, King Kong...) and some unwelcome visitors from outer space.
External links
Edit
Ad blocker interference detected!
Wikia is a free-to-use site that makes money from advertising. We have a modified experience for viewers using ad blockers

Wikia is not accessible if you've made further modifications. Remove the custom ad blocker rule(s) and the page will load as expected.