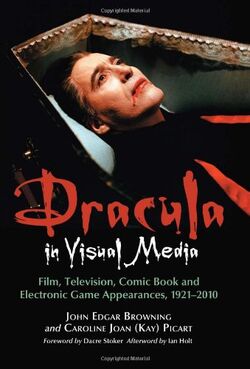 Dracula in Visual Media: Film, Television, Comic Book and Electronic Game Appearances, 1921-2010 is a guide book to Count Dracula many visual media adaptions. A photo of Christopher Lee from Dracula Has Risen from the Grave is used on the cover.
Featuring a foreword by Dacre Stoker, sectional introductions by David J. Skal, Laura Helen Marks, Mitch Frye, and Dodd Alley, an afterword by Ian Holt, and a bibliographical essay by Robert Eighteen-Bisang and J. Gordon Melton, this comprehensive sourcebook on the world's most famous vampire documents over 700 domestic and international "Dracula" films, television programs, documentaries, adult features, animated works, and video games, as well as nearly a thousand comic books and stage adaptations. While they vary in length, significance, quality, genre, moral character, country, and format, each of the cited works adopts some form of Bram Stoker's original creation, and Dracula himself, or a recognizable vampiric semblance of Dracula, appears in each.
External links
Edit
Ad blocker interference detected!
Wikia is a free-to-use site that makes money from advertising. We have a modified experience for viewers using ad blockers

Wikia is not accessible if you've made further modifications. Remove the custom ad blocker rule(s) and the page will load as expected.