IMPORTANT NOTICE: Please respect all views and all perspectives. This wikia is meant for a better understanding of the show, movies, books and for a strong, friendly community. Hateful or vulgar posts against someone or something can and will be removed by the Admins. Thank you for reading this notice; please spread the word, and keep it nice. This Wikia contains major spoilers, either from the show, or book series, or both, they are no way censored.
CAUTION: This wikia contains spoilers from the Dracula series.
---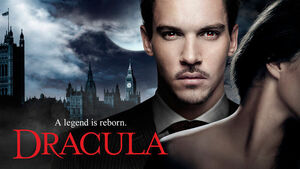 Dracula is an upcoming show on NBC, starring Jonathan Rhys Meyers. It will star Dracula as he travels to London in the 1890s, under the guise of an American entrepreneur seeking to introduce Victorian society to modern technology. His true goal is to seek revenge on those who have wronged him.
The series is written by
Cole Haddon
and produced by
Colin Callendar
,
Tony Krantz
,
Gareth Neame
,
Anne Mensah
and
Reece Pearson
. It is directed by
Eli Roth
.
Read More...


Will you be watching Dracula on NBC?
For more polls, check out the Poll Archive.


Create blog post
Refresh
Hey there! Wikia is currently running a contest where we're asking communities to Gothify their Wikias, similar to how Wikias changed up their look for Halloween, and we think it's something that your community will find interesting. Head over here for details! If you have any questions, feel free …

Read more >

What's interesting about the enduring fascination of Dracula and his mythic presence in all of the vampire fiction and movies is the gnawing sense of fear it betrays amongst humans. It's not just a fear of being bitten by a vampire and so joining the ranks of the undead, it's a fear of annihilation…

Read more >

From Dracula in 1931 to various vampire movies today, it seems that adaptations of the famous bloodsucking count will never end...and maybe that's a good thing.

This year, NBC will be airing a show called Dracula, staring Jonathan Rhys Meyers as Count Dracula. Little else is known of casting, but w…

Read more >
See more >
Loading RSS data...