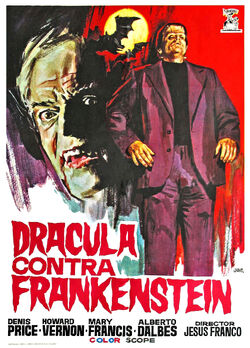 Dracula, Prisoner of Frankenstein is a 1972 film about Count Dracula being held prisoner by Dr. Frankenstein.
Synopsis
Edit
[hel fill this in]
Dennis Price ... Victor Frankenstein
Paca Gabaldón ... María
Alberto Dalbés ... Jonathan Seward
Britt Nichols ... Chica vampira
Geneviève Robert ... Amira - la gitana
Anne Libert ... Primera víctima de Drácula
Luis Barboo ... Morpho
Brandy ... El Hombre Lobo
Ad blocker interference detected!
Wikia is a free-to-use site that makes money from advertising. We have a modified experience for viewers using ad blockers

Wikia is not accessible if you've made further modifications. Remove the custom ad blocker rule(s) and the page will load as expected.