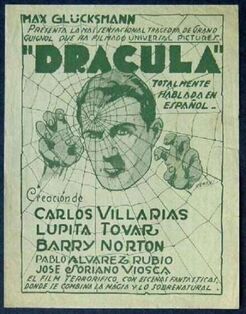 "No mueves tu mano si no quiero que." 
- El Conde Drácula to Prof. Van Helsing 

Drácula is a 1931 Universal horror film directed by George Melford produced by Carl Leamme  Jr. It is the criticlly acclaimed Spanish version of the  American classic starring  Bela Lugosi. The film is widely considered to be fastly superior to the American rlease. The film was starring the Spanish actors: Carlos Villarias, 
Ad blocker interference detected!
Wikia is a free-to-use site that makes money from advertising. We have a modified experience for viewers using ad blockers

Wikia is not accessible if you've made further modifications. Remove the custom ad blocker rule(s) and the page will load as expected.