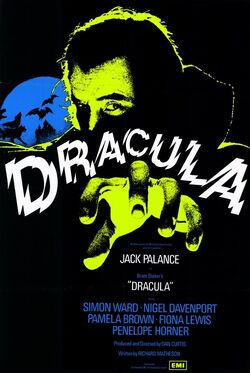 Bram Stoker's Dracula is a 1973 telefilm adaptation of Dracula, written by Richard Matheson and produced & directed by Dan Curtis. Like Dracula's Great Love before it, it portrays Count Dracula as romantic and tragic figure.
Synopsis
Edit
The film mostly follows the premise of Stoker's novel. It adds in as story of Dracula's lost love reinarnated as Lucy Westenra. It also makes Dracula the historical Vlad III.
Screencaps
Edit
Ad blocker interference detected!
Wikia is a free-to-use site that makes money from advertising. We have a modified experience for viewers using ad blockers

Wikia is not accessible if you've made further modifications. Remove the custom ad blocker rule(s) and the page will load as expected.